There are loads of Mosques in Birmingham. Typing the words 'Birmingham Mosque' in Google maps will bring up a large amount of Mosques in the city.
But, not all of them!
You might find your closest prayer room is actually located inside a hospital, university or even train station.
For example, let's say you're shopping in the Bullring and it's time to pray. The closes Mosque would require a car journey and the Bullring has no prayer room within it.
So, where do you go?
Answer: use my prayer room map to find a nearby prayer space
With the map, you can find the closest prayer room or Mosque with ease.
So, in our example above, the closest prayer room would be inside New Street station, which is just across the road from the Bullring shopping centre.
Who am I?
And how do I know about these prayer rooms?
My name is Faisal and having studied at a University in Birmingham, I have visited a number of the prayer rooms on the list. Furthermore, I have used online sources to find the rest (as there are loads).
Now, let's see the map.
Map of Birmingham Mosques & Prayer Rooms
Use this map to find your closest prayer room or Mosque in Birmingham, UK.
Red = Mosque
Green = Prayer Room
Yellow = Jummah only
Last Updated: 31/12/21
Please rate this map:





(17 votes>

Loading...
I don't have a huge list of contacts in the Birmingham area. If anyone does then please share this post on Whatsapp, so that they can benefit from the prayer map.
Share buttons:
Before we go further, here are some recommended Muslim travel products I found on Amazon. Super useful when praying on the move:
Please also see my map of prayer rooms on motorway service stations.
Furthermore, here is a similar map of prayer rooms in Central London, organised by tube stations.
Mosques & Prayer Rooms in Central Birmingham
While the map above shows all Birmingham Mosques and Prayer Rooms, the list below goes into detail about each one that is located within the town centre ring road.
Prayer rooms in Birmingham city centre:
That's right, there is a prayer room inside Birmingham New Street Station / Birmingham Grand Central Shopping Centre.
You can find the prayer room between Cafe Nero and the left luggage area.
The prayer room has wudu facilities. But, bear in mind it is a multi-faith prayer room and therefore people of other faiths may be using the area.
The prayer room appears to be marked on Google maps in multiple locations. However, I believe it is the same room. Please correct me if you know otherwise.
Address: 2 Station St, Birmingham B5 4DY
Have an update about this prayer room? Then, email [email protected]
There is a prayer room located inside the ICC.
The Prayer Room is located on Level 3, along the main corridor as you enter via the Brindleyplace Level 3 entrance.
Address: Broad St, Birmingham B1 2EA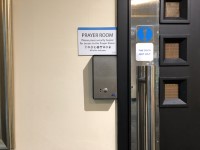 Have an update about this prayer room? Then, email [email protected]
A Muslim prayer room on the first floor opposite the chaplaincy office. This has an area for washing, separates spaces for men and women, copies of the Qur'an and prayer mats. Imam Aftab Parwaz leads two sets of Jummah prayers on a Friday, please see the board outside the prayer room for times.
Address: Steelhouse Ln, Birmingham B4 6NH
Have an update about this prayer room? Then, email [email protected]
Birmingham Central Mosque
The main Mosque in Birmingham, which sits within the ring road.
Birmingham Central Mosque is the second purpose built mosque in the United Kingdom. Furthermore, it is one of the most recognised religious buildings in the city of Birmingham and a result, a vast number of people visit this mosque every year.
The mosque itself has three floors. On the first floor there is a large Main Hall for prayers which can easily accommodate around 3,000 worshippers at any one time. In addition to that there are two Ladies' Gallery on the third floor to accommodate about 1500 women. For school visits etc. there is a multi-media presentation room and a souvenir shop as well on the same floor.
Address: 180 Belgrave Middleway, Birmingham B12 0XS
Website: http://centralmosque.org.uk/
Have an update about this prayer room? Then, email [email protected]
More Prayer Maps
More prayer maps are available on the Maps page, including a map of prayer rooms in London, and Prayer rooms on UK Motorways
Please share this post on Whatsapp for others to benefit.